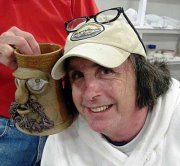 Jef Barton is mainly a productive potter who makes functional and decorative pieces using various stoneware clay bodies and firing methods. Most of his functional pieces are fired in reduction atmosphere using a gas kiln to 2350' F, producing a highly durable ware with rich yet often subtle glaze colors. There are some pieces fired in the RAKU process which is a quick fire process. The hand built pieces are constructed of highly textured slabs of clay combined with wheel thrown segments. Also, some of the wheel thrown pieces are altered and embellished with extruded elements.
Teaching Experience:
1972Instructor, University of Texas at Arlington, Arlington, Texas – Taught Secondary Art Education.
1974-1977Instructor, Dallas Community College District, Dallas, Texas – Taught Art Appreciation, Introduction to Art, 3-Dimensional Design, Sculpture, and Ceramics.
1981Instructor, Prince George's Community College, Landover, Maryland – Taught advertising art and design.
Education:
1971BFA in Painting at University of Texas at Arlington 1972Master of Arts in Ceramics, University of University of Dallas, Irving, TX 1975Master of Fine Arts Ceramics, University of University of Dallas, Irving, TX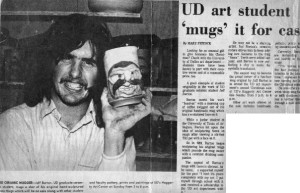 The History of the Facemugs
Back in the early 70's, there was chance meeting in the hallways of the Art Department at the University of Texas at Arlington. A group of art students were sitting outside one of the classrooms talking away when a huge man in very muddy clothes came lumbering by. When I say huge, I mean very big like an offensive lineman for a football team. In fact, I later found out he played football at Texas Tech University and he told stories of blocking against the likes of Bob Lily who at that time was attending TCU. As he lumbered by, one of the mild mannered, soft spoken art students stated out loud "who is the new plumber at UTA?". At that moment, he turned around, came up to that student, grabbed him by his shirt collar and stated "Its Doctor Jim Henderson to you". He let the student go, turned around and walked off. That moment was burned into my memory for many reasons to this day. First and foremost, I was that mild mannered, soft spoken student and I was embarrassed in front of my peers. Secondly, what happened after that meeting ended up changing the direction of my life. I decided at that time I was going to enroll in one of his classes and disrupt it as best as I could. I found out that he was teaching art educations classes. All of those classes were full but I did find one class I in which I could enroll. That class was Ceramics I. The first three classes I would take some clay and put little faces (self portraits in clay of me in college) on the black board, door knobs, etc. At the start of the third class, Doctor Jim Henderson stated "I want to thank the person who has been putting those faces all over the place, they helped me make $20,000 in a week!". Well, I remember saying something out loud like "oh crap". Doctor Jim Henderson then said "I thought it was you.Let me show you how you can make some money too". And that is how the facemug was born. He said he would only put faces on wine jugs and cookie jars. He said he would never put faces on a mugs and that I could do the mugs. We both honored that commitment to each other even up until his passing away. Doctor Jim Henderson changed my life that semester. "Papa Bear" as he became known among the students he brought into his ceramic inner-circle, turned a few of us on to the medium of clay. He got me a full scholarship to the University of Dallas not because of my work, but because of who I studied under.